George Medal for bomb disposal soldier Brett Linley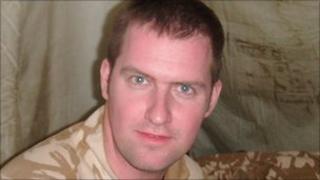 A Birmingham soldier who defused more than 100 bombs in Afghanistan is to posthumously receive the George Medal for "great bravery".
Staff Sgt Brett Linley, from Bournville, died while trying to clear improvised explosive devices (IEDs) in Nahr-e-Saraj in July.
The 29-year-old had been serving on his first tour of Afghanistan with the Royal Logistic Corps.
His mother Anne Linley said he enjoyed his role as an ammunition technician.
'Progressed quickly'
Staff Sgt Linley enlisted into the Royal Logistic Corps in March 2001 and qualified as an ammunition technician in September 2002.
He completed three tours of duty in Northern Ireland, and was also deployed to the Falkland Islands and Canada.
The George Medal is awarded for gallant conduct "not in the face of the enemy".
Mrs Linley said: "He wanted to be an ammunitions technician right from joining the Army and he progressed very, very quickly and very well."
A total of 136 UK servicemen and women are being honoured on Friday, including L/Cpl Matthew Morris, of the Royal Engineers, for uncovering one of the largest improvised explosive devices ever found in Helmand.
The 23-year-old, from Longbridge in Birmingham, has been awarded the Queen's Commendation for Bravery.
He led the team that discovered the 500lb (226kg) device after aerial reconnaissance spotted 16 men putting something into the ground.
His citation reads: "Very few searchers volunteer to return to Afghanistan, yet Morris did exactly that on this, his second tour."