Birmingham Mint: A brief history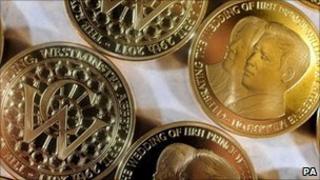 The relocation of the Birmingham Mint to Kidderminster brings to an end 200 years of an association with the city.
The Mint claims to be the world's oldest and has had a colourful history since it started production in 1794.
It went into administration in 2003 and was forced to close its doors before being revived, initially, as a working museum.
The Mint has turned out currencies for more than 100 governments as well as many Royal and military medals.
The firm was originally located in Icknield Street, Hockley, until it was moved to the Tyburn Road, in Birmingham, when it was bought by current owners JFT Law Ltd in 2003.
Military awards
The production of tens of thousands of coins, as well as jewellery, now continues in at the Mint's new premises in Kidderminster.
As well as coins, the Mint's portfolio over the years has included the manufacture of hundreds of military awards, including National Service medals.
They have also made medals for the Professional Footballers' Association and were the official suppliers to the London Marathon for more than a decade.
Hundreds of blank Euro coins were also produced, predominately for the Netherlands and Spain, when the currency was first adopted in 2002.
That same year, the Mint produced commemorative medals of the Queen's golden jubilee and, this year, is producing around 50,000 coins to mark the wedding of Prince William and Kate Middleton on 29 April.