Pupil Chloe West, 14, stabbed at Stourbridge school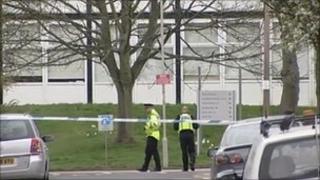 A man is being questioned on suspicion of attempted murder after a 14-year-old girl was stabbed near her school gates in Stourbridge.
West Midlands Police said Chloe West had suffered serious wounds to her face, neck and chest.
She has undergone plastic surgery after she was attacked as she walked up Park Road West to Ridgewood High School in Wollaston, at about 0840 BST.
Police said the 18-year-old man was held by witnesses at the scene.
They said he is not a pupil at the school but was known to the girl.
Chloe is said to be "stable" and has spoken to her parents and police.
The arrested man has undergone treatment for injuries to his hands.
'Tremendous bravery'
Witnesses said the 18-year-old drove up to Chloe in a burgundy Volkswagen Polo, leapt out of the car, pushed her to the floor and stabbed her while she was lying on the ground.
Supt Stuart Johnson praised the bravery of those who helped Chloe.
"I'm referring to some members of the public who I believe may be parents of children who attend here at the school, to some staff members and indeed to some students, who were confronted by a very frightening scene here," he said.
"They showed tremendous bravery in intervening and actually detaining the suspect.
"And in my opinion, and based on medical evidence, they clearly prevented far more serious injuries to Chloe."
Chloe is currently at Birmingham Children's Hospital.
Clive Nutting, head teacher at Ridgewood High School, said the school had been closed for the rest of Friday.
West Midlands Police said it was an isolated incident and there was no known risk to anyone else.
Diane Dawes, who lives nearby, saw police and ambulance staff at the scene.
She said: "A lot of the teachers were sending the children on up the road and then I saw somebody lying in the footpath.
"Then I realised there was someone else on the path further up."
She said she saw a man arrested and a girl put into an ambulance which travelled towards where an air ambulance had landed.
She added: "It is shocking, it could have been our own children or grandchildren."