Birmingham Connexions staff on strike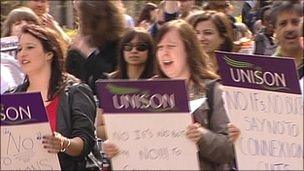 Members of the union Unison who work for a council-run youth careers advisory service are on strike.
Staff from the Birmingham city centre Connexions branch have joined others in a half-day protest outside the council offices, resulting in the closure of several Connexions services.
Unison is fighting a 30% budget cut and a compulsory redundancy threat to 36 members of staff.
Birmingham City Council said the strike was "extremely regrettable".
Unison members from centres in Handsworth, Kings Heath, Northfield and Broad Street are involved in the industrial action.
Rob Johnston, from Unison, said: "Youth unemployment is very high so we're asking the council to give the young people of Birmingham the hope they need by keeping Connexions open."
Birmingham City Council has said it needs to save £212m in this financial year, leading to the loss of 2,450 jobs throughout departments.
A council spokesperson said: "At the moment all options are being looked at for Connexions staff such as voluntary redundancy and moves into other vacant roles within the council.
"No-one is being made redundant on a compulsory basis at this stage."
Related Internet Links
The BBC is not responsible for the content of external sites.