Foundation work begins at school destroyed by fire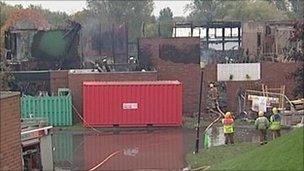 Six months after it was destroyed in an arson attack, rebuilding work at a Black Country school has started.
Around 80% of Wilkinson Primary School, in Bilston, was lost in a fire on 11 October 2010. The blaze also affected the neighbouring RSA Academy.
After a month of having lessons at the nearby St.Martin's Church, the 350 pupils moved into temporary classrooms back at the school site.
Now the rebuilding of the school's foundations has begun.
It means teachers and pupils can now look forward to getting back to normality.
'Very resilient' children
"Every new day is the first time we've been in this situation and just brings a new challenge," head teacher Tina Gibbon said.
Staff have made sure disruption has been kept to a minimum.
"Everything has continued - skills, curriculum - everything's as it would have been at school.
"Our children are very resilient, they've just got on with whatever we've thrown at them," Mrs Gibbon added.
The work is expected to be completed in time for the spring term in 2013.