Birmingham orchestra on classical music award shortlist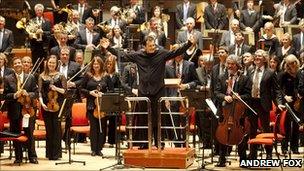 The City of Birmingham Symphony Orchestra (CBSO) has been shortlisted for an award that marks outstanding achievements in live classical music.
The Royal Philharmonic Society Awards were set up in 1989 and this year there are 13 categories.
Celebrating more than 90 years of making music, the CBSO is in the running for the ensemble award and is up against two other orchestras.
Winners will be announced at a ceremony in London in May.
The CBSO was founded in 1920 as the City of Birmingham Orchestra and its inaugural concert was conducted by Sir Edward Elgar.
Over the years it has grown and won other awards, including the Royal Philharmonic Society (RPS) Award for Large Ensemble in 1997 and RPS Award for Best Concert Series in 2001.
Stephen Maddock, chief executive of the CBSO, said they were "absolutely thrilled" to be shortlisted again.
"There is an exciting chemistry between the orchestra and our musical director Andris Nelsons, who has rapidly become one of the most sought-after conductors on the international scene.
"2010 was an extremely busy year for the CBSO, with over 100 concerts in the UK, so it is fantastic to be recognised in this way."
Formed in 1813, The Royal Philharmonic Society is one of the oldest music societies in the world.
Its chairman John Gilhooly said: "The RPS Music Awards are decided by independent panels consisting of leading members of the music industry.
"This year they have put their fingers on the country's musical pulse and found a rich vein of talent and invention."
The City of Birmingham Symphony Orchestra has been shortlisted alongside The National Youth Orchestra of Great Britain and Aurora Orchestra for the awards, which are presented in association with BBC Radio 3.
Related Internet Links
The BBC is not responsible for the content of external sites.