Longbridge mass car production resumes with MG6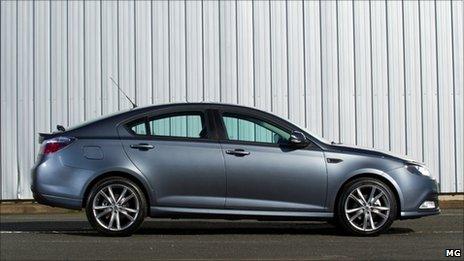 Made in China but built in Britain. As the first of the MG6 models come off the production line, an industry expert, a former worker and an MG enthusiast have explained what it means to see mass production resume at Longbridge.
When MG Rover collapsed in 2005, making 6,000 workers redundant in Birmingham, many people thought major car manufacturing was finished at the factory.
Now, its Chinese owners, Shanghai Automotive Industry Corporation (SAIC), hope to revive the fortunes of the MG brand by producing a new five-door, 1.8l engine sports car to sell in the UK.
Mike Steventon, head of consultant KPMG's UK Automotive, said car manufacturing capability in China had exceeded local demand and the firm was now looking to expand in the UK as a bridge to the US market.
"Chinese companies want to develop a global footprint," he said.
"They want to be a global player and they want to do that through a strong brand.
"But you can't build that up quickly. It takes 30-40 years to build a brand. So they have to use an existing brand which will be appreciated by more people.
"Mini, Rolls Royce, Aston Martin, these names mean something to the consumer.
The new MG has been designed and engineered at the MG technical centre in Longbridge. The last new MG model to be produced at Longbridge was the MGF, which was unveiled in 1995.
Mr Steventon said as the brand re-established itself in the British market, he expected more components would be made locally.
"This model is really important for showing that the West Midlands is a good place for overseas investment to place car manufacturing," he added.
One of the casualties of MG Rover's collapse was Andy Cartwright, who had worked in the paint shop for 15 years.
His house was repossessed and his wife Gemma had to support him and their four-children on her salary as a midwifery assistant at Birmingham Women's Hospital.
Mr Cartwright, who left school at 16 to become a market trader and then a fork-lift truck driver, said: "When I got the job at Rover I thought, this is it, I've got a job for life.
"I'd filled out my application form and passed my medical. It came with a pension and was secure employment, so it came as a shock when it all finished."
He has since retrained in child care and holds down two jobs working at an after-school club and as a contact worker for children in care.
He said: "I'm just pleased there will be mass production there again, obviously not like before.
"When I first joined there was about 16,000 people working at the plant.
"But when I see the flags flying outside, the Union Jack, the Shanghai flag and the Rover flag, I'll feel proud to know that the MG badge will always be associated with Longbridge.
"Yes, the parts might come from abroad, but you can never take Birmingham out of it and fair play to the 200 or so people who have got a job out of this."
His eldest daughter, Mercedes, 17, has a diploma in engineering and would also like a career in the automotive industry.
"She's been offered an apprenticeship in Australia and China and I've told her to go where the work is, but it should be in this country and that is what is disappointing," Mr Cartwright, 47, added.
Car enthusiasts have also welcomed the launch of the new MG.
John Lakey, a committee member for the Austin and Longbridge Federation, said: "Some enthusiasts are worried about where the parts are made, but the majority are pleased to see it is back, as MG is a great British brand and people are loyal to it.
"It's great news that Britain's oldest car plant is back in action again, albeit producing in smaller volumes than it once did.
"Longbridge produced some of the 20th century's most important vehicles, the Mini, the Austin 7, the Austin 1100, so let's hope Longbridge can play an increasing role in the 21st century motor industry."
Related Internet Links
The BBC is not responsible for the content of external sites.