Man gets life for doorstep murder in Oldbury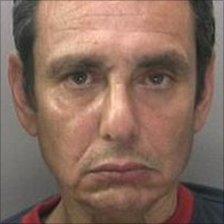 A man who stabbed a father-of-six outside his West Midlands home after harbouring a 16-year grudge against him has been jailed for life.
Stephen Lal, 51, from St Luke's Road, Wednesbury, was convicting of murdering Charles Kelly, 56, in Oldbury, in July 2010, at Wolverhampton Crown Court.
He must spend at least 24 years in jail. Sister Helen Lal got three years for perverting the course of justice.
Mr Kelly answered a knock at the door of his home and was stabbed 15 times.
He was attacked in Marshall Road on 16 July.
Mr Kelly's wife Marlene said after the verdict that he was her best friend.
"To have been married to Charlie for 37 years on the 15th July 2010, then have him so cruelly taken away from me a day later is so hard for me to come to terms with.
"We always said on our 40th anniversary we would renew our wedding vows, but now that will never happen.
"I heard many negative things said about my husband during this trial, however, I would like to people to know that when we had Charlie's funeral over 500 people attended.
"I think that is testament to what type of person Charlie was."
Speaking following the conviction, Det Ch Insp Sarbjit Johal said: "Following extensive inquiries into this case by a dedicated team of officers and detectives we uncovered a grudge against the victim by Lal, which had lasted some 16 years.
"That grudge led to a moment of violence which left a family without their husband, father and grandfather.
"Lal visited Charles' house that night planning to cause him harm, armed with a knife."
Stephen and Helen Lal were found guilty on Tuesday and sentenced on Wednesday morning.
Related Internet Links
The BBC is not responsible for the content of external sites.