West Midlands genetic scientists 'to lose jobs'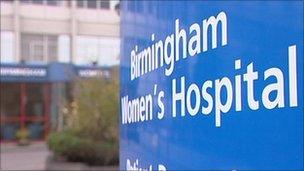 Eight genetic scientists are among the first hospital employees who will lose their jobs in the West Midlands, the Unison union said.
West Midlands Regional Genetics Service based at Birmingham Women's Hospital will also lose three counsellors and some administration staff, it added.
Birmingham Women's NHS Foundation Trust said up to 30 posts out of 1,600 staff were at risk of compulsory redundancy.
The trust added it needed to find more than £6m worth of savings.
Unison said the eight genetic scientists were among the 30 and jobs were going at the "front line".
It said four people had already left the hospital - one managerial and three administrative posts - and morale was not high.
Unison spokeswoman Eleanor Smith said: "It's very low because everybody keeps thinking 'when's it going to happen to me'...
"You've got genetic counsellors, they're going out and actually talking to people, counselling patients, front-line staff."
Unison claimed the women's hospital was also re-grading midwives to save money.
However, the hospital said it was planning to deliver more babies in the future and believed it would be able to employ more midwives.
In a statement, the trust said it was confident the "safety of our services" would not be adversely affected by changes.
It said: "We are doing all we can to minimise the number of actual redundancies through internal NHS redeployments, natural turnover and holding some vacancies.
"We need to find over £6 million worth of savings to ensure that we continue to provide a high standard of health care to our patients and can support future investments to improve the services still further.
"Patient safety and quality of care are our priority."
Related Internet Links
The BBC is not responsible for the content of external sites.