Birmingham men 'released by kidnappers in Pakistan'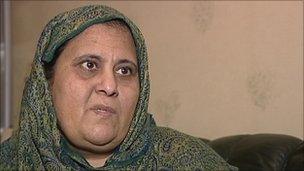 Two Birmingham men who were kidnapped while visiting Pakistan have been freed, family members have said.
Zafran Jamil and Zahid Mohammed, both of Bordesley Green, went to Peshawar but went missing around 21 December.
Mr Jamil's mother, Zahida Parvin, said she had spoken to her son earlier and been told Mr Mohammed had also been released.
The Foreign Office said Mr Jamil was still listed as missing and it was investigating Mr Mohammed's case.
Mrs Parvin said Mr Mohammed's father broke the news to her early on Thursday and then she spoke to her son.
She added: "I was so [excited]. I couldn't speak at that time, but I was very pleased to hear that he has been released."
Mrs Parvin said two other men apart from her son and Mr Mohammed were also free.
She said she had not been told how Mr Jamil had come to be freed and did not have any ideas about when her son would be returning home.
"He said when he comes back he will tell me what's happened and how he's been released," she said.
Peshawar is a district in north-western Pakistan, close to the border with Afghanistan.
Related Internet Links
The BBC is not responsible for the content of external sites.