Will Birmingham voters send national coalition message?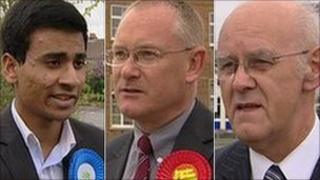 Birmingham City Council is Europe's largest local authority and like the government it is run by a Conservative/Liberal Democrat coalition.
Both have identified millions of pounds' worth of savings in the next 12 months to help address budget shortfalls.
So, as the cuts take effect, will voters use local elections to send a message to the government?
Chris Game, the University of Birmingham's honorary senior lecturer at the Institute of Local Government Studies, said it was a possibility.
Cuts 'too deep'
"This is the first time that people in Birmingham will be able to have their say after the general elections in May," he said.
"Having said that, local elections are not a mock general election.
"Last year, the general elections were held alongside local elections here and, according to exit polls, one-in-five people voted for different candidates in both, even though the same party vote was available.
"In local elections there is much less standard duplication than people think."
In Birmingham, 40 seats are being contested, which make up a third of the council.
Brendan O'Brien, a Labour candidate in the city's Sheldon ward, said: "People will come out to the polls this time because they want to make sure that they use their vote to say to the government you are cutting too deep, too fast and this has got to change. There is an alternative."
The city council plans to make cuts of £212m in the financial year 2011-12, with the loss of 2,450 workers.
It has been criticised by Unison which said the scale of the cuts in the first year amounted to "social vandalism" that threatened the effectiveness of public services.
However, the council said it was still spending £3.5bn on public services.
Deputy council leader Paul Tilsley, a Lib Dem, said: "For the jobs that we are losing in the public sector we are attracting private sector jobs that will match the losses."
Sharmaine Kelly, a mother-of-two from Edgbaston, said she would make an effort to vote this time, to make a point.
"I am going to vote Labour because of all the cuts the coalition [government] is making," she said.
Mr Tilsley said it was "inevitable" there would be backlash against the government at a time of cuts.
But he said his party had also attracted investment with £2bn worth of supply contracts announced by Jaguar Land Rover and £32.7m of investment to develop Birmingham International Airport's runway and improve access to the airport's railway station.
Sheldon ward Tory candidate, Amil Khan, maintained people would still vote on local issues.
"I have been rather surprised actually, speaking to people on the doorstep they say they are concerned with local issues, whether it is recycling or graffiti or anti-social behaviour," he said.
"So they understand that this is a local election and they will judge all the candidates based on what they have to say locally."
But, Moqapi Salassie, a 46-year-old poet from Winson Green, said he was disillusioned with politics altogether.
'It's all rubbish'
He said it made no difference for him who was in power because no party carried through their promises once in office.
"No-one cares because it is all rubbish," he added.
The 120 seats on the council are divided as follows: Conservative 45, Labour 41, Liberal Democrat 31 and Respect 3.
Candidates standing in the Sheldon ward are: UKIP: Richard Allen; BNP: Amanda Bowyer; Green Party: Alan Clawley; Conservative: Amil Khan; Labour: Brendan O'Brien; Liberal Democrat: Paul Tilsley; Social Democrats: Joylan Ware.