Girl at home after Birmingham hospital transplant first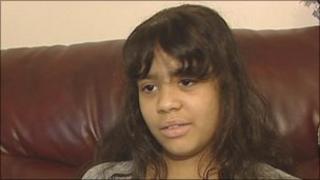 A 12-year-old girl who became the first child to receive a heart transplant at Birmingham Children's Hospital is back at home making a good recovery.
In January Jasmine Page collapsed at school and was too ill to be taken to London's Great Ormond Street Hospital.
Great Ormond Street specialists came to work alongside staff in Birmingham.
Her family have spent 10-and-a-half weeks in hospital, in Birmingham and London. Jasmine hopes to return to school in June.
When she collapsed, Jasmine, who has kawasaki disease, which affects blood vessels, had to be helped by a teacher who performed mouth-to-mouth resuscitation.
Now the girl, whose aunt is TV presenter Alison Hammond, has been hoping to thank everybody in person for the hundreds of cards and cuddly toys.
She said: "When I first woke up, I couldn't lift my head or my hand or anything.
"I had to get my mum and dad if I had like an itch on my face or anything.
"But now it's like taking a long time, but I can move around more."