Drummer Bev Bevan on Birmingham Walk of Stars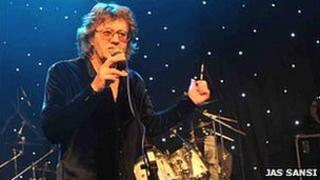 Former ELO drummer, Birmingham's Bev Bevan, will celebrate picking up his Broad Street Walk of Stars award with a special gig in the city.
Bev and his current band will be joined by other celebrity guests including Jasper Carrott and Raymond Froggatt at the event.
The musician was also a founder member of The Move and had success with Black Sabbath and ELO Part II.
Bev, who now presents a radio show on BBC WM, said he felt "very honoured".
'Significant contribution'
The Walk of Stars recognises people who have made a significant contribution in areas like music, TV, theatre, sport and business.
Other local celebrities who have received the honour include Jasper Carrott, Julie Walters and Lenny Henry.
Broad Street manager Mike Olley described Bev Bevan as "fantastically talented" and "well-deserving of a place on Broad Street".
It was announced in January 2011 that the musician from Sparkhill would be the latest local star to be recognised.
Now he will be presented with his award at the special event at Gatecrasher in Birmingham on Thursday, 28 April.
Organisers said that monies raised from the profits of ticket sales would be donated to the Birmingham Mail Charity Fund.
Paying tribute to his friend, Jasper Carrot said: "Bev is my oldest and best friend and deserves this award for all he has done for the music industry and charity events in Birmingham."
More details about the event can be found at the Broad Street website.
Bev Bevan and Jimmy Franks are on BBC WM 95.6FM on Tuesday evenings at 10pm.