No surgery needed for Aston Villa boss Gerard Houllier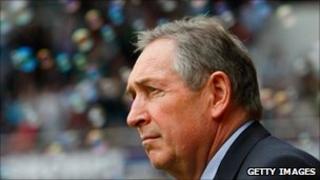 Aston Villa manager Gerard Houllier has been told he will not require surgery after being admitted to hospital with chest pains.
The 63-year-old was taken to a hospital in Birmingham overnight on Wednesday.
Assistant manager Gary McAllister told reporters on Friday that Houllier would not need an operation.
Houllier had major surgery after suffering heart-related problems in 2001 while he was managing Liverpool FC.
Medicine and rest
McAllister visited him earlier and said: "He is on the coronary ward. He was great and bubbly. He had a tough night but he was looking surprisingly well and in fine fettle."
After visiting on Thursday, he said if you took away the tubes attached to Houllier's arms, you would not realise he was ill.
He said his boss had been prescribed medicine and rest.
Birmingham City manager Alex McLeish said he wished his French friend well.
He said: "He has gone through a lot in his life.
"Since the operation, he has had a different perspective and seems cool and relaxed.
"But you never know what goes on inside of people and this job is highly stressful because of the massive stakes in the Premier League."
'Good friend'
He said The League Managers Association provided 24-hour support to help cope with the stress but, without a challenge, people would probably not achieve as much with their lives.
Everton boss David Moyes added: "I am saddened to hear about Gerard.
"He is a good friend and someone I got to know really well when he was manager at Liverpool.
"If you are listening Gerard, I hope you are well. Look after yourself, we are all thinking about you."
McAllister will be in charge on Saturday for Villa's game against Stoke at Villa Park.