Italian couple murdered in their Wolverhampton home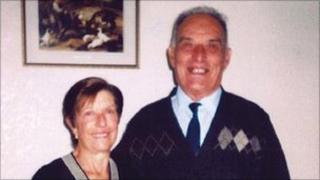 A double murder investigation has begun after an elderly couple were found dead at an address in Wolverhampton.
West Midlands Ambulance Service was called to Woden Road, Park Village, at about 2000 BST on Friday.
Italian grandparents Guiseppe Massaro, 80, and his wife Caterina, 77, were found dead at the scene.
The cause of death has not yet been established but police said they had ruled out the possibility of a murder suicide case.
Virgin Mary sticker
The couple had two children and a number of grandchildren and moved to England in 1960.
Supt Mark Payne said: "What we have is a very complicated scene where we have two deceased people inside the same house.
"We have a pathologist coming down to the scene, we have a forensic scientist coming to help us understand how they met their deaths."
He said police particularly wanted to hear from anyone with information about a black Peugeot 307, registration PK56 VRW, that was taken from the address and then found in Tithe Croft, Wednesfield.
It has a distinctive sticker of the Virgin Mary on the left passenger window and an orange fir tree-shaped air freshener hanging down from the rear view mirror.
The pair were last seen alive at 2000 BST on Thursday.
A family member called the emergency services and a police spokesman confirmed a double murder inquiry was under way.
Supt Payne said: "Our thoughts are with the family of this elderly couple, and the community in which they lived.
'Hand yourself in'
"We are going to do everything that we can to find those responsible as quickly as possible."
He urged the killer to hand themselves in to police and said: "We have lots of very experienced detectives and police officers working on this.
"We will find you, make it easy on yourself and hand yourself in.
"We are looking for a person or people, they know who they are, we will find them and we will bring them to justice."
Sarah Roberts, 61, who has lived a few doors down from the Massaros for 26 years, said: "I only spoke to them a couple of days ago and he wished me well.
"This is just so shocking, it's left me quite scared."
Another neighbour, Justin Greenwood, 46, said: "He was a nice old guy, she was a nice lady. They were always out and about, they seemed to live outside, maybe a continental way of life, they were just a lovely couple.
"We're just in a state of shock to be honest, we didn't know them well but it's almost like you have lost somebody."
Anyone with information is asked to contact police or call Crimestoppers anonymously.