Murdered Wolverhampton couple's family 'devastated'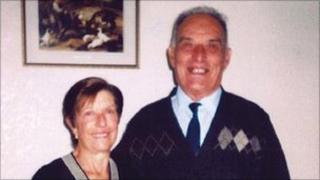 The family of an elderly couple found dead at their home in Wolverhampton have spoken of their "devastation".
A double murder investigation was started after Guiseppe Massaro, 80, and his wife Caterina, 77, were found dead in Woden Road, Park Village.
The couple, originally from Italy, were discovered on Friday and a post-mortem examination will continue on Monday.
Prayers were being said at St Patrick's Church, New Cross, Wolverhampton, which the pair used to attend.
'Very close'
Police have said they had ruled out the possibility of a murder suicide case.
In a statement released by the West Midlands force, the family said: "Words cannot describe the devastation that has struck our family after discovering our beloved grandparents hurt by the hands of someone else.
"We cannot even begin to grasp the evil that took place in their home and how frightened they would have been.
"An entire generation was taken away from us that day and we cannot comprehend how something could go this far.
"We only hope this devastation can save the lives of many other people by being aware that tragedy can strike at anytime so all we can do is be more vigilant towards our neighbours and the entire community.
"Their lives will be sadly missed and this has severely affected our family and a lot of our friends."
Family liaison officers were in place, police said.
The couple were found by a relative at about 2000 BST on Friday.
The pair, who were last seen alive at 2000 BST on Thursday, had two children and a number of grandchildren and moved to England in 1960.
'Lovely couple'
They had lived in Woden Road for a number of years.
A family friend called Darren said: "Personally I think it was maybe a robbery that's gone wrong.
"Being a proud man, I think he's stood up and stood his ground, tried to obviously protect his family.
"He was well liked in the community, kept himself to himself."
Julie Knowles, whose late mother knew the pair as next door neighbours, said the "very friendly" and helpful couple made their own wine and would often ask "if we wanted a bit of lasagne or whatever".
She added: "We grew up with the daughters as well. They looked out for my mum before she passed away in January and they were very close neighbours.
"Who'd want to do this to such a lovely couple?
"To lose your parents is one thing as we know, but to lose them in this tragic way, it's unbearable to think about."
Detectives were trying to track the movements of the couple's black Peugeot 307, registration PK56 VRW, which went missing from their house and was recovered in Tithe Croft, Wednesfield.
Police were looking into whether its disappearance was linked to their murder.
It has a distinctive sticker of the Virgin Mary on the left passenger window and an orange fir tree-shaped air freshener hanging down from the rear view mirror.
Supt Mark Payne said: "I would particularly appeal to anyone who may have seen this car or seen people coming or going from this address at Woden Road on Thursday or Friday."