Aston Villa boss Houllier 'comfortable'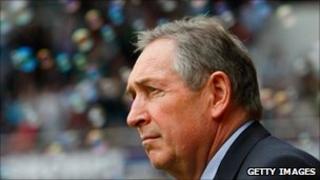 Aston Villa manager Gerard Houllier is said to be "comfortable" in hospital, four days after being admitted suffering from chest pains.
Villa's owner Randy Lerner and chief executive Paul Faulkner have visited the 63-year-old Frenchman in hospital in Birmingham during the weekend.
It was not known how long Houllier will have to remain in hospital.
Assistant manager Gary McAllister was in charge for Saturday's 1-1 draw with Stoke City at Villa Park.
The former Leeds and Coventry boss will remain in the role in the absence of Houllier, who was admitted to hospital on Wednesday evening.
McAllister, who played under him when he was manager of Liverpool, and Villa coaches Gordon Cowans, Rafa Gonzalez and Robert Duverne have also made hospital visits.
Villa and Houllier will be guided by the specialist over when he is deemed fit enough to return to work.
McAllister said: "The many messages of goodwill from fans and people in and out of the game underline the esteem in which Gerard is held."
Villa have four remaining matches in the Barclays Premier League this season against West Bromwich Albion, Wigan Athletic, Arsenal and Liverpool.