Knife and hammer attack on Wolverhampton couple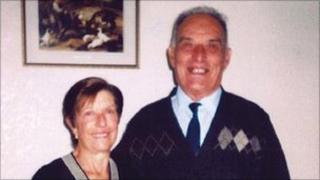 An elderly couple found dead at their home in Wolverhampton were subjected to a "sustained and ferocious" knife and hammer attack, said police.
West Midlands Police said their house had been ransacked and property, including two flat-screen televisions, stolen. Their car had also been taken.
Guiseppe Massaro, 80, and his wife Caterina, 77, were found dead in Woden Road, Park Village, on Friday.
Three men have been arrested on suspicion of their murders.
'Home destroyed'
Two Wolverhampton men, aged 32 and 21, and a 30-year-old from Birmingham were arrested.
Police have been granted extra time, until 1500 BST on Wednesday, to question two of the men, a spokesman said. The third man is also still being held and detectives have until the evening to talk to him.
The couple's car, a black Peugeot 307, was found in Tithe Croft, Wednesfield, half a mile away from their house. Police are keen to find out where the car was on Thursday and Friday of last week.
Supt Keith Wilson said officers believed a knife and a hammer found at the scene had been used in the "sustained and ferocious attack"
He also said Mr Massaro had "defensive wounds" to parts of his body.
Officers were called to the house at around 2000 BST and found the bodies of the couple, wearing day clothes, in the bedroom. There was also evidence of a burglary, he said.
Mr and Mrs Massaro, who had two children and a number of grandchildren, moved to England in 1960.
Their grandchildren said they were "beautiful and caring" people.
"We cannot even begin to grasp the evil that took place in their home and how frightened they would have been.
"An entire generation was taken away from us that day and we cannot comprehend how something could go this far."
'Hearts of gold'
Grandson Richard Booth, 26, said the home which had brought so much warmth and comfort to the family had suddenly been "destroyed".
"They had hearts of gold and they were harmless to anyone," he said. "They looked out for others. They were great grandparents."
His sister, Lindsey Booth, 23, appealed for anyone with information, no matter how insignificant they might think it to be, to come forward.
In a statement released earlier, the family said: "Words cannot describe the devastation that has struck our family.
"Their lives will be sadly missed and this has severely affected our family and a lot of our friends."
Police said they believed people in Wolverhampton could hold the answer to helping them find out what had happened.
Anyone who has been offered a new 36" LG television, or who uses Woden Road as a cut through and may have seen something unusual is urged to contact them.