Park and ride extension gets underway at Whitlock's End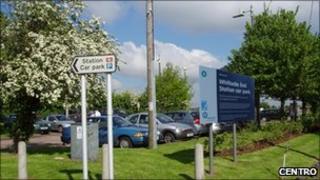 An expansion programme has started at a busy West Midlands commuter railway station.
Extension work to the Park and Ride at Whitlock's End station near Shirley will improved car parking and security at a cost about £570,000.
An extra 164 parking spaces will be created, including 14 disabled bays, bringing the capacity to 275.
CCTV will also be installed along with cycle locker provision, improved lighting, landscaping and fencing.
'Sensible car use'
Chris Perry, Centro's head of transport operations, told BBC WM: "We're doing everything we can to encourage more people to use their cars sensibly, to think about using park and ride, the bus, the train or the metro for some of their journeys.
"We've worked out we're going to take 53,000 car journeys off the road each week, reducing carbon dioxide emissions by 6,200 tonnes a year," he added.
The existing car park at the station will be unaffected by the redevelopment and will remain open.
"We understand that some people can't walk to their nearest station and we want to provide them with a park and ride facility so for, at least some of the journey, public transport can take the strain," he added.
The work, which is being funding by public money, is set for completion in late summer 2011.