Aston Villa boss Houllier to leave hospital in days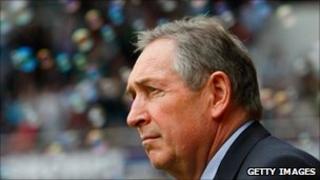 Aston Villa manager Gerard Houllier will be released from hospital within the next three to four days, the club have confirmed.
The 63-year-old Frenchman was admitted to hospital last week with chest pains.
Villa's owner Randy Lerner and chief executive Paul Faulkner have visited Houllier in hospital in Birmingham over the weekend.
Assistant manager Gary McAllister was in charge for Saturday's 1-1 draw with Stoke City at Villa Park.
The former Leeds and Coventry boss will remain in the role until Houllier is deemed fit enough to return to work by a specialist.
'Extremely touched'
Houllier was admitted to hospital on 20 April.
In a statement released by the club he said: "I am extremely touched by all the messages I have received and by the reaction of people throughout the world of football. It has been overwhelming.
"I'm especially grateful to the Villa fans for their genuine concern and encouragement and to the fans of clubs up and down the country. There has been a groundswell of goodwill and I appreciate this so much.
"I'm grateful to my players for their texts and messages and, of course, for their efforts in extending our recent unbeaten run on Saturday against Stoke and also to Gary McAllister and the rest of my staff - the team behind the team - for stepping in and taking the reins at this time."
He also praised the care he had received at the Queen Elizabeth Hospital.
Dr Mark Waller, the club's doctor, said the manager's chest pain had been caused by a dissection of the descending aorta.
He added: "All the tests have confirmed his heart is working perfectly. We are extremely encouraged by Gerard's improvement over the past six days and we now anticipate that he will be discharged from the coronary care unit within the next three to four days."