Stolen TVs found in Wolverhampton double murder inquiry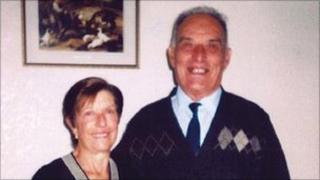 Two flat-screen televisions stolen from a couple murdered in their Wolverhampton home have been found.
Guiseppe Massaro, 80, and his wife Caterina, 77, were attacked with a knife and hammer in their home in Woden Road, Park Village, on Good Friday.
Their house was ransacked and two TVs and a black Peugeot car were taken. The car was found in Wednesfield and the televisions in Wolverhampton.
Three men, two from Wolverhampton, are being held on suspicion of murder.
Twin girls
The Massaro's bodies were found by their 23-year-old granddaughter, Lindsey Booth.
Miss Booth said: "Our grandparents came to England in the 1960s to look for work and to create a better life for themselves.
"Since being in the country they did nothing but work hard in order to provide for their two daughters - our mothers - and, after becoming grandparents to seven grandchildren, this summer they were expected to become great grandparents to two twin girls, which is unfortunately no longer the case."
'Come forward'
Police have until 1500 BST to question the Wolverhampton men, aged 32 and 21, and until midnight to question a 30-year-old man from Birmingham.
Det Supt Keith Wilson, from West Midlands Police, renewed his appeal for information, in particular relating to the stolen car and televisions.
He said Woden Road was used as a busy cut-through and added: "If you were on that street on Thursday or Friday, we would ask you to think hard about what you saw and come forward.
"We believe that people of Wolverhampton hold the answer to helping us find out what has happened."