Youth workers tackling street crime in Wolverhampton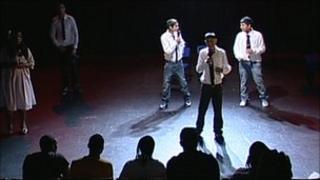 Councils across the country are cutting budgets and many projects involving youth services are being dropped or severely reduced.
BBC News takes a look at the work of the Eyes (Engage Youth Empowerment Services) project in Wolverhampton, West Midlands.
The theatre was packed with people watching Shakespeare with a difference.
It had rap songs performed by heavyweight boxers but it was still the Bard's prose from the Merchant of Venice.
It was a lesson about revenge for a group of youngsters drawn from some of the tougher districts of Wolverhampton.
Putting them through their paces was former drama student Lindsey Booth, project manager with Eyes.
She said her project had helped young people and also helped to reduce crime in Wolverhampton.
'Revenge and division'
"Shakespeare on the streets had a definite message of revenge in the play, and division.
"We've tried to bring it into modern times as well, still with the flavour of Shakespeare," she said.
Eyes is a charity and is reliant on donations.
Ms Booth said the council cuts had an effect on the group as it had a lot of connections with council staff who are no longer in employment.
Young people are referred to the project by the police, probation and even by their own parents. Many of them have directly been affected by the city's gun and gang culture.
One young man, Adam Reynolds, said: "It's changing my life because I have done a lot of things which I shouldn't have done.
"I'm now out here telling the youth of today, you know what, there is a better option."
Another Eyes client, Monique Deans, said: "I've been part of gangs and being here it's different, it's nice to be around people who really don't care what area you're from or who you talk to."
Despite the cuts, Eyes is continuing its work, something which Ms Booth is passionate about as she is convinced that it does make a difference to the city.
"One of the police officers told me that when we went to one area that was known for street robberies and burglaries, when we were in that area for 12 weeks not one robbery or street burglary took place," she said.
The Labour-controlled city council said it was continuing to fund Eyes to the tune of £26,155 a year.
But it said it had recently had to make savings of £454,600 from its youth service budget - which it had done mainly through deleting management posts.
It had also lost nearly £680,000 in government funding for some of its youth services, it said.