South Asian footballers missing from the pitch?
By Manish Verma
BBC News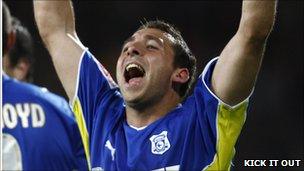 One of the UK's largest South Asian football tournaments will kick off once again this summer, attracting more than 900 players from across the country.
The Football Association and Khalsa Football Federation will host between 60 and 70 teams in Coventry this weekend, and in Derby and Birmingham in July.
With so many amateurs involved in the sport, it might be a surprise to hear that of the 2,500 Premier League and Football League players, only five are of Indian, Pakistani or Bangladeshi origin.
What are the reasons for this apparent lack of progression from a community of 2.3m, 4% of the UK's population?
County FA development administrator Jasbir Batt, 25, believes they start in the home.
Mr Batt said he thought those from South Asian communities, particularly some parents, still felt football was not a viable career path.
However, Butch Fazal, who chairs the Asians in Football Forum, said the idea that parents just wanted their children to pursue careers in medicine, accountancy or law was a "myth" and a "stereotype".
Zesh Rehman, from Aston in Birmingham, was the first player of South Asian origin to play in all four English football leagues.
His brother, Riz Rehman, 28, said a combination of the wrong mentality towards a career in professional football and unsupportive parents were the reasons for the lack of professional players from those communities.
"I think [progressing in professional football is] about ability. Of course you'll face barriers, but it's how you deal with it," he said.
Mr Fazal, who sits on the Race Equality Advisory Group, said the game "is institutionally racist" and "has been for a long time".
The Uefa-licensed coach pointed the blame at coaches he felt held cultural stereotypes.
Just as black players were considered quick and strong, South Asian players were falsely thought of as small, technical but restricted by cultural and religious barriers, he added.
The 47-year-old said nepotism was another factor.
Mr Fazal questioned how players could break the "glass ceiling" when about 60% of transfers, he claimed, were based on "who you know, not what you know".
Mr Batt, from Birmingham County FA, said he felt racism could be "hidden under the carpet" but was not the sole reason for the lack of progression.
The FA said it had run "successful Asians in football programmes" in the Midlands over the past couple of years.
It would be working with a number of partners to "encourage and promote Asian participation in the game" in the future, it added.
In regards to exclusive Asian football tournaments, Jasbir Batt, Riz Rehman or Butch Fazal all thought they did not help to get more South Asians into professional football.
Mr Batt, from Handsworth in Birmingham, said for some scouts, coming to these tournaments was a "tick-box exercise", an excuse to say "yeah, I've been down".
Mr Rehman, a former professional player for Brentford, said South Asian players needed to "come out of their own communities" as competing in mixed teams would have a "positive development" on a player.
Mr Fazal, who has worked with football's equality and inclusion campaign, Kick It Out, said he felt it was important to play in mixed teams to understand the nature of the sport.
"If we don't swim in the ocean, we won't know the sharks out there."
Related Internet Links
The BBC is not responsible for the content of external sites.