Dudley bids for Queen's Diamond Jubilee city status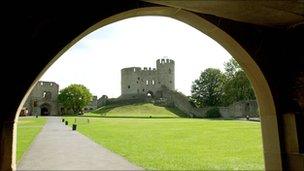 The borough of Dudley has submitted its bid for city status to the government.
To mark the Queen's Diamond Jubilee in 2012, one borough in Britain will be granted city status, and Dudley is one of the hopefuls.
Council leader Les Jones said the area's history was a strength of its application, citing Dudley Castle as an example.
The deadline for applications is Friday, with only one new city expected to be chosen early next year.
The leader of the Conservative-run borough council said he wanted to ensure the borough's four main towns kept their individual identity.
"In addition to Dudley town centre we have Stourbridge, with its fantastic glass-making heritage, the recently regenerated Halesowen and, of course, Brierley Hill which is the focus of long-term regeneration plans."
Mr Jones said he was proud of the borough, which has a population of 300,000, and that its bid was "entirely justified".
"Our history and heritage dates back millions of years with a geological make-up which laid the foundations for us being at the heart of the Industrial Revolution."
Mr Jones said the status was more than a name change.
"It also holds great value when it comes to attracting investment from abroad."
Related Internet Links
The BBC is not responsible for the content of external sites.