Hagley Road hotel and house damaged in fire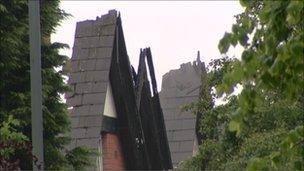 A house and an adjoining hotel have been severely damaged by a fire.
About 20 people had to be moved out of the Knowle Lodge Hotel on Hagley Road in Birmingham. One man was treated for the effects of breathing in smoke.
It is believed Saturday's fire started in the roof of the vacant house and spread to the hotel. Both properties will be demolished fire crews said.
Part of the Hagley Road was temporarily closed. The fire was brought under control at about 0800 BST on Sunday.
The cause is not yet known.
About six fire engines were sent to the scene at about 1730 BST on Saturday.
Related Internet Links
The BBC is not responsible for the content of external sites.