West Midlands firefighters get new 'safer' uniforms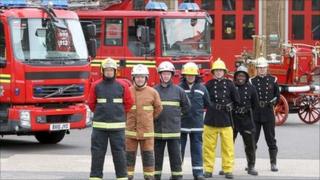 Firefighters from West Midlands Fire Service have been given new kit aimed at improving their safety.
The uniform comes as part of a new contract which the service says will save it £1.4m over eight years.
The uniform, which is blue and red in colour, replaces the old brownish-orange one.
Enhanced safety features include a new helmet with built-in safety glasses and a lightweight more breathable fabric for the fire coat and trousers.
The kit will be worn by firefighters from all of West Midlands Fire Service's community fire stations.
Firefighters volunteered to take part in a "rigorous" testing programme at Oldbury Fire Station to ensure the kit offered the best fit and personal protection required for the job.
'Financial challenges'
A fire service spokesman said four different suppliers were each invited to submit three different kit ensembles for firefighters to put to the test.
The simulated test conditions included rescuing casualties from a fire house and road traffic collisions using cutting equipment.
He said the kit that was chosen offered the best comfort and protection.
He added women firefighters were particularly pleased that a separate kit was specially designed for the female form.
Vij Randeniya, chief fire officer, said: "Our firefighters are amongst the very best in the world and it is important that we do everything we can to enhance their personal safety.
"As well as offering excellent safety and comfort, this kit also demonstrates exceptional value for money which is crucial to us given the financial challenges we face over the next four years."