Birmingham Cube apartment buyers protest at Lloyds TSB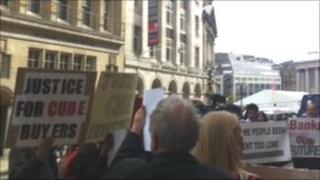 Investors who say they face bankruptcy after failing to complete on the sale of luxury apartments have staged a protest outside a Lloyds TSB branch.
The protesters signed contracts in 2006 to buy apartments at The Cube in Birmingham.
Developers went into administration as the project was hit by falling property prices and recession.
The bank said it was working closely with administrators to ensure all outstanding cases were handled fairly.
Protesters, who met at the Colemore Row branch, said they faced court proceedings by the bank and must pay original sale prices.
The bank is the creditor for the canal-side development.
But many of the protesters said they cannot now get mortgages and are angry that the bank is still pursing them and taking legal action.
'Life on hold'
The 23-storey building was devised by London "gherkin" designer Ken Shuttleworth and contains shops, offices, a restaurant and panoramic city views.
But developers, Birmingham Development Company, went into administration last March and the project's completion - in late 2010 - was overseen by administrators Pricewaterhouse Coopers (PwC).
PwC said before administration that about 130 purchasers entered legally-binding contracts to buy apartments at The Cube "as and when the building was completed".
But investor Rose Dwyer said she was led to believe that would be in 2008.
"It is an "open-ended" contract I have learnt which means they can complete at any time but, the solicitor did not say that at the time he just said 'around 2008'," she said.
She said her case was due to be heard on 22 July and faced bankruptcy if it was successful as she has been told she must pay PwC legal costs of £30,000.
Ms Dwyer said she agreed to buy a studio flat for £116,500, paying an £11,600 deposit in 2006 and the seller told her it was worth £137,500.
A valuation several months ago, put it at £105,000, she added.
"I have sent the bank all my paperwork, my P60 to show I have no assets so they know my situation but still they are taking action," she said.
"My life, my future is on hold.
"We understand we took a risk as prices can go up and down but it was delayed and we cannot get mortgages.
"By protesting today, hopefully someone at Lloyds will show some humanity and see that these people obviously cannot complete otherwise they would not be here on the street."
In a statement, the bank said it had provided mortgages to more than two fifths of buyers of apartments and there were a "small number" who had not yet completed.
"In situations where customers simply cannot complete, it is not in anyone's interests to force them into bankruptcy and this is not an approach we intend to pursue.
"We are working closely with the administrator PwC, to ensure that all outstanding purchasers' cases are handled fairly and that each purchaser's ability to complete is fully considered."