English Defence League blames police over protests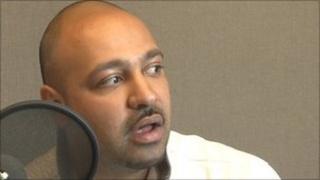 An English Defence League (EDL) spokesman claims it was the police's fault there were violent demonstrations in the West Midlands last year.
Guramit Singh said police "banned" two protests in Dudley in April and July.
Asked what he thought caused violent demonstrations last year, Mr Singh said police "wouldn't facilitate anything".
The West Midlands force said it went to "great lengths" to facilitate the protests but had to balance the rights and needs of everyone involved.
Assistant Chief Constable Garry Forsyth added: "That includes the local communities, the EDL, other groups that want to protest and also a number of business communities as well who all made representations to us."
Nine people were arrested in April 2010 when rallies were held by the EDL and anti-fascist group Unite Against Fascism.
The two groups organised demonstrations which resulted in the city's market closing and shops being boarded up.
An EDL demonstration was staged in Dudley in July 2010 and Unite Against Fascism held a counter protest. Twenty-one arrests were made.
Mr Singh told BBC WM's Hard Talk series other demonstrations around the country had been peaceful, with "minor arrests here and there", but Dudley was an exception.
'No agenda'
The West Midlands EDL spokesman added: "When they [police] work with me and we come to a good agreement.... then the demonstrations always work.
"But West Midlands was a one off because West Midlands' constabulary refused to facilitate the English Defence League...
"They imposed a ban on us."
Mr Forsyth denied a ban was imposed and said the force "can't ban a lawful protest".
"We've got no powers to do that," he said.
He said officers could however impose certain conditions.
"That would be through the process of an intelligence assessment in engaging with local communities and working out what we think is going to happen on the day," he said.
He said the force had "no agenda against anybody" and had "a very strong history of facilitating protests across a full range and spectrum of groups, including the EDL".
He took issue with Mr Singh's claims over EDL protests elsewhere, adding action was "not by any definition of peaceful as I understand it".