'Tolkien' Moseley Bog's £250,000 revamp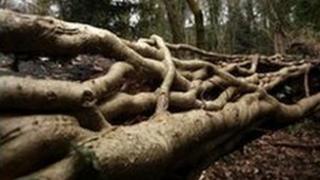 A Birmingham nature reserve that Lord of the Rings author, JRR Tolkien, visited as a child has undergone a £250,000 revamp.
New paths and walkways have been introduced at the reserve, known as Moseley Bog, the Wildlife Trust said.
Tolkien said Moseley Bog had inspired the mystical Old Forest that his Hobbit characters travelled through in the Lord of the Rings.
The trust said it wanted to enhance the area with walkways not urbanise it.
It is owned by Birmingham City Council and managed by the Friends of Moseley Bog and the Wildlife Trust and was awarded lottery money towards the revamp.
'Fits in'
Part of the reserve was once used as a rubbish tip but is now a Site of Importance for Nature Conservation.
Neil Wyatt, chief executive of the Wildlife Trust for Birmingham and the Black Country, told BBC News that they wanted to open it up and enable more people to enjoy it.
"We've made every effort to make sure it fits in and isn't glaring and it doesn't look like we're urbanising it, we're making it just a nice place to come and visit."
He said people have travelled from as far away as Japan to see where Tolkien was inspired as a child.