Boy rescued after 25ft fall at Pensnett nature reserve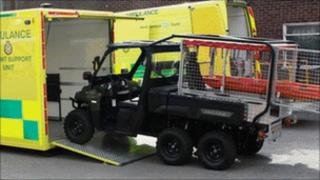 A 15-year-old boy has been rescued after falling down a 25ft embankment and into a stream in a West Midlands nature reserve.
He was stuck down the embankment, off Chapel Street in Pensnett, Brierley Hill, for around an hour and 45 minutes on Thursday evening.
The boy was in "a very precarious position in difficult terrain, in the dark", the ambulance service said.
He suffered a dislocated knee and was taken to Russells Hall Hospital.
Paramedics were called at about 2130 BST and its staff and the fire service carried out the rescue.
The boy had fallen in a wooded area, down a "steep muddy embankment" and into a stream, which runs between two large pools, a spokesman for West Midlands Ambulance Service said.
An ambulance and four vehicles from the trust's Hazardous Area Response Team (HART) were deployed.
The teenager was about half a mile away from a road and the HART team used a specialist Polaris 6x6 to "drive through the difficult terrain" to get to him.
He was driven back through the terrain to an ambulance.