Lib Dem Sandwell mayor Joyce Underhill joins Labour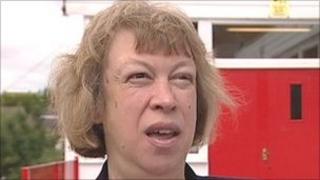 A Midlands mayor has joined Labour after leaving the Liberal Democrats following a row over cancer sufferers.
Mayor of Sandwell Joyce Underhill said Prime Minister David Cameron was "dismissive" about the impact of welfare reforms on cancer sufferers.
Husband Tony, who has prostate cancer, also crossed the floor of the council. The Lib Dems expressed disappointment.
Mr Cameron defended the government's Welfare Reform Bill in the Commons earlier this week.
He said means testing for cancer sufferers after one year "is the same test as under the Labour government and it is put in place fairly,"
Mr and Mrs Underhill were officially welcomed into the Labour Party on Saturday, receiving their cards at Brandhall Labour Club.
'Line was crossed'
The couple both crossed the floor of Sandwell Metropolitan Borough Council after Wednesday's Commons row between the prime minister and Labour leader Ed Miliband.
Mrs Underhill, a Lib Dem member for 23 years, said she and her husband, a member for eight years, had become "increasingly disillusioned" with leader Nick Clegg and the party's coalition with the Tories.
She said: "We have seen how police cuts here in the West Midlands have been particularly severe and undermine safety.
"But we felt a line was crossed when David Cameron seemed to have no idea of the impact of his own policies on cancer sufferers when he was speaking in the House of Commons."
Mr Underhill added: "As someone who is suffering from cancer it seemed to me an insulting and crass position."
'Very difficult time'
A Lib Dem spokesman said: "The government has made clear recovering cancer patients who are assessed as still needing unconditional government support will see no change to their benefit entitlement after 12 months."
He said the party was "also helping cancer patients with the new £200m cancer drugs fund".
"(It is) boosting the number of cancer specialists, introducing better treatment by expanding access to radiotherapy, improving access to diagnostic tests and committing to keeping the NHS cancer networks to protect patient care.
"Most Liberal Democrats recognise that we entered government in the national interest at a very difficult time and that coalition means we must make compromises and tough decisions."