Tauseef Shaukat's family want justice over car crash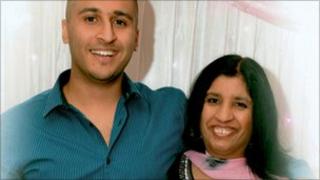 The family of a man who died after a collision in the West Midlands say they would like "the driver of the car that killed" him to come forward.
Tauseef Shaukat, 24, was driving a Fiat Punto along Churchbridge, in Oldbury, on 13 June when his car was in collision with a Subaru Impreza.
Two boys were held on suspicion of causing death by dangerous driving and burglary and released on police bail.
West Midlands Police said they were in the process of identifying the driver.
The force said it still needed a third person from the Subaru to come forward to help with inquiries and it was appealing for witnesses.
The two arrested teenagers, aged 16 and 17, were released on police bail pending further inquiries.
Police believe the Subaru had been involved in a burglary at a Co-op store, in Tame Road.
Mr Shaukat, who died two days before his 25th birthday, was taken to hospital with serious injuries and died a short time later.
Two other passengers in the Fiat Punto suffered injuries and received hospital treatment.
Mohammed Saghir, Mr Shaukat's uncle, said: "We would like the driver of the car that actually killed Tauseef Shaukat to come forward and report to the local police station.
"Words can't describe the loss this family has suffered.
"Tauseef Shaukat was a kind and a caring person who basically went out of his way to help others.
"He was someone whose love [we] will keep in our hearts and treasure it at all times."
Aunt Nusrat Nazir said Mr Shaukat's fiancee was "really devastated".
She added: "I can't even actually console her at the moment."
One of Mr Shaukat's brothers, Raqib Shaukat, added: "Hopefully down the line justice will be done."
Police said they hoped to get the body released to family as soon as possible.