Brothers jailed for Vijay Thaper 'dishonour' killing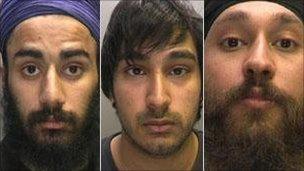 Two brothers attacked and killed a man because they thought his relationship with their mother brought "dishonour" on their family, prosecutors said.
Sarenjeet Lotey, 22 and Sandeep Lotey, 24, both from Milton Keynes, were jailed after they admitted the manslaughter of Vijay Thaper, 61.
Mr Thaper suffered injuries outside his home in Bloxwich on 13 January 2010 and died a few months later.
Also jailed was the brothers' cousin, Pritpal Singh Panesar, 21.
Paneshar, of Newcombe Road, Handsworth, Birmingham, admitted the same charge as the brothers, both of Cranbourne Avenue.
At Wolverhampton Crown Court, Sandeep Lotey was sentenced to six years and nine months and Sarenjeet Lotey and Panesar were both sentenced to five years and nine months.
Paul Dhami, Crown advocate for West Midlands Crown Prosecution Service, said they used a GPS tracking device to see where their mother was before launching their attack.
He said: "Sarenjeet and Sandeep Lotey were motivated by the dishonour brought upon their family when their mother announced the end of her 25-year marriage to their father and her decision to rekindle a relationship with Mr Thaper.
"The Lotey brothers applied constant pressure to their mother to return to the family home and reconcile her relationship with their father, including verbal threats, however, this was to no avail and so they hatched a plan to end her new relationship.
"They deployed surveillance techniques to track the movement of the couple, including purchasing a GPS tracking device which was placed on their mother's car which allowed the defendants to monitor her movements via the internet in real time."
He added at the time of the attack, mobile phone evidence placed Panesar and Sandeep Lotey in the vicinity of the attack and Sarenjeet Lotey at home in Milton Keynes communicating with them and monitoring the tracker's movement.
He added Mr Thaper was then attacked outside his home on Stoney Lane resulting in injuries which left him wheelchair-bound.
Police initially began investigating the assault on Mr Thaper but he subsequently became unwell and was admitted to hospital where he died on 8 March 2010.
Because of his earlier injuries, a forensic post-mortem examination was carried out which showed that Mr Thaper died form a pulmonary thrombosis, brought on by the injuries he sustained in January.
Det Insp Gary Plant said: "This was a tragic incident whereby Mr Vijay Thaper lost his life through the over-protective and selfish actions of siblings trying to control the life and happiness of their mother.
"Vijay had done nothing more than enter into a loving relationship with a woman, which her children and other family members could not accept."
Related Internet Links
The BBC is not responsible for the content of external sites.