Heritage grant for historic Birmingham coffin factory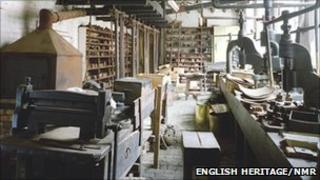 A historic Victorian factory in Birmingham has won a grant of nearly £1m for a restoration project.
The Newman Brothers Coffin Works in the Jewellery Quarter has been awarded the grant by the Heritage Lottery Fund (HLF).
Built in 1894, the factory made coffin fittings. The building was sold in 2003 with its contents left in place.
The HLF said that the disused factory on Fleet Street was "once the maker of the world's finest coffin furniture".
The works, which featured in the BBC series Restoration in 2003, made fittings for the coffins of Sir Winston Churchill, Joseph Chamberlain and Diana, Princess of Wales.
The four-year conservation project will be the first phase of a larger, long-term scheme that aims to open up the building to visitors and some new uses.
The work to preserve the building and its contents will be overseen by the Birmingham Conservation Trust (BCT).
Elizabeth Perkins, BCT trust director, said the grant made "all the difference".
She added: "HLF's support means we will now be able to attract the remaining funds we need to rescue this fantastic building and its remarkable contents."