Black Country grandfather, 83, celebrates university degree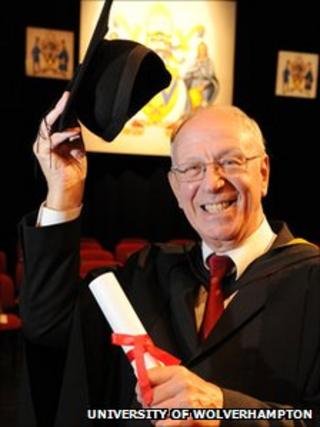 An 83-year-old Black Country man has fulfilled a lifelong dream and graduated with a university degree.
Colin Clews from Sedgley joined thousands of other University of Wolverhampton graduates to collect his scroll.
The grandfather of six achieved an honours degree in engineering after a 50-year career in the field.
Mr Clews said he had felt nervous about graduating and "couldn't imagine myself in a cap and gown beforehand".
'Best job'
During World War II, Mr Clews trained as an electrician's mate and went on to spend 30 years working at British Federal Welders in Dudley.
He then moved to a company in Birmingham which supplied equipment to carmakers.
"I had the best job in the world, but it was a career being faced with problems and never knowing how to solve them properly," he said.
"I would find a solution but always felt I needed to know more. I didn't have time for a formal education."
When he retired at 65, Mr Clews signed up to an Access to Education course at Dudley College and then dedicated himself to looking after his late wife, Ivy.
'Thoroughly good time'
The father of three was inspired to start a degree after seeing one of his grandson's studying for exams.
"I found myself looking over my grandson Jamie's shoulder at some work he was doing for his A-levels and thought I would like to do something like that," he said.
Mr Clews chose to study mechatronics, which is a mixture of mechanical and electronic engineering, and graduated with a 2:1 BEng (Hons) degree.
"For the three years, I had a thoroughly good time. It takes over your whole life. You don't have time for mowing the lawn or painting and decorating," he said.
"I made a lot of good friends and met a lot of nice people. The tutors were awesomely knowledgeable about their subject and the university itself was first class."
Mr Clews was joined by members of his family at the graduation ceremony which was held at Wolverhampton's Grand Theatre.