English Heritage praises Birmingham gas retort house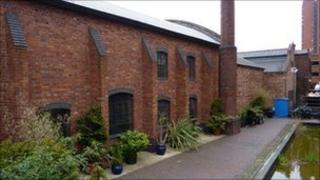 A former Birmingham gasworks has been praised as an example to other endangered buildings across the UK.
On Wednesday English Heritage published a list of sites of industrial heritage most at risk due to neglect and decay.
It includes Ditherington Flax Mill, in Shrewsbury, and Chatterley Whitfield Colliery in Stoke-on-Trent.
Birmingham's grade II* listed gas retort house on Gas Street, declared "at risk" in 2010, has been removed from this year's report.
It follows years of maintenance by owners Ashtenne.
Since the company bought the property eight years ago, as part of a portfolio, it has completed structural work to walls and the replacement of roof coverings.
A continuing maintenance regime has also been set up.
English Heritage said it was convinced the immediate future of the city centre building was now secure.
Dating back to 1818, three years after the Battle of Waterloo, the retort house is believed to be both the first and the last remaining of Birmingham's gasworks.
'Generating income'
Dr Sarah Lewis, from English Heritage, said that finding a new use for industrial buildings was the key to protecting them for future generations.
The retort house is currently empty and on the market, but its owners are in negotiation with a company considering turning it into a gym and creche.
One option is to use "pod-like" structures that would not affect the physical structure of the listed building.
Dr Lewis said that generating income from a historic building also meant owners were more likely to invest in them.
"The retort house's location means it's got a decent outlook for commercial re-use. It is an example of a building that is pretty flexible," she added.
Not all sites of industrial heritage in the region are so fortunate.
Three West Midlands buildings are among this year's top 10 most "at risk".
English Heritage has used its 2011 report to highlight the plight of Ditherington Flax Mill in Shrewsbury and Chatterley Whitfield Colliery in Stoke-on-Trent.
Boulton and Watt's Soho Foundry in Smethwick is also featured, which pioneered the use of gas for lighting.
A long-term plan is in place for Ditherington Flax Mill, the world's first iron-framed building and the forerunner of skyscrapers.
English Heritage hopes to turn the building into shops, homes and offices under £18.8m plans.
In May a £12.4m application was rejected by the Heritage Lottery Fund, although English Heritage said it was "cautiously optimistic" that a forthcoming bid would be successful.