West Midlands Police set up 'gangs' task force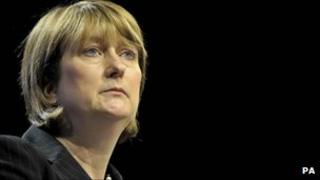 A task force is to be set up by West Midlands Police to tackle gangs.
A team of more than 20 officers will attempt to disrupt the 45 urban street gangs which the force said were operating in the West Midlands.
The announcement and estimate of gang numbers have been revealed in a BBC WM documentary by former Home Secretary Jacqui Smith.
Ms Smith has been talking to former gang members, police and agencies to look at the extent of the problem.
Mediators and police have said the gang problem peaked in about 2003, at the time when two teenage girls died in a botched gang attack.
Letisha Shakespeare, 17, and Charlene Ellis, 18, were shot outside a party in Aston in Birmingham on 2 January 2003.
The high-profile deaths led to Letisha's mother, Marcia, working with West Midlands Police to help educate young people to avoid gang involvement.
She has voiced concerns about whether police funding cuts will have an impact on efforts to cut street crime.
The West Midlands force has to save £126m over the next four years.
Eradication prediction
Deputy Chief Constable Dave Thompson acknowledged the cuts would mean changes to how they delivered services but said he was "convinced that we will still be reducing crime very effectively".
He said: "We will still be protecting people, and really serious issues, like young people involved in violence and gangs, will still be something that we're very effective at dealing with," he added.
Ms Smith, who stood down as home secretary in 2009, said the gang problem in Birmingham was looked at as part of the former Labour government's national programme of tackling gang violence, which also covered London, Manchester and Liverpool.
She said she hoped that the current government would not base its imminent report on its gang strategy on the summer riots as only 2% of the trouble in Birmingham was gang-related, police arrest figures suggest.
The Home Office said the government had been carrying out a cross-departmental action programme to tackle gangs and gang violence following the recent disorder.
In 2009, a senior West Midlands Police officer predicted that street gangs in the city would be eradicated within two to three years.
As part of her research, Ms Smith was told the number of gang-related murders in Birmingham had fallen over the past few years but the gang problem still existed.
But Det Supt Jo Chiltern, who leads work on gangs for the force, said through new analysis work 45 urban street gangs had been identified across the region. These differ from serious organised crime gangs.
"In the last few months, we've done a piece of work, a problem profile, of the nature of urban street gangs across the whole of the West Midlands... and we estimate there are about 45."
She said it was hard to say if that number was more or less than in 2003.
"It is difficult to say because this piece of work is only recent. There have always been gangs around - people say there were gangs in the 60s - we've always had gangs whether here in the UK or abroad.
"For serious violence, we're looking at murder and there appears to a reduction in gang-related murder offences (since 2003).
"Around firearms and knives, we have seen a significant reduction since 2003."
Kirk Dawes, from the Centre for Conflict Transformation in Birmingham, said targeting the behaviour of gang members was the best way of managing the problem.
He said: "People say you want to eradicate gangs, let's get real. If you target them by way of association you're not going to do it.
"If you target the behaviour, gangs will still exist but not in the same way. I think that's what we have done in Birmingham."
Det Supt Chiltern said the force would continue to focus on offering an "exit strategy" to people who wanted to leave a gang.
Ms Smith said she had found though her research that it was not possible to stop people from becoming involved in gangs.
She said: "This programme has made me realise that people will always look to each other for support and friendship but we have got to step in to stop groups descending into the spiral of gang violence fuelled by a toxic mix of pride, fear, and anger."