Rare World War I white feather found in Wolverhampton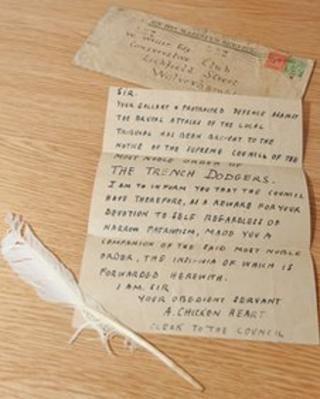 An "incredibly rare" symbol of wartime cowardice has been found in Wolverhampton's archives.
The white feather was sent along with an anonymous letter to William Weller, who was an architect in the city, during the latter years of World War I.
City archivist Heidi McIntosh said Mr Weller, who was in his 40s when the letter was sent, had been excused from service on medical grounds.
White feathers were given to men thought to be dodging military service.
Mr Weller was a partner at the Weller firm of architects, which designed buildings in the city in the 19th and 20th Century.
The letter and feather were found by council staff and the Wolverhampton Buildings Preservation Trust as they were looking through archives.
The University of Wolverhampton's School of Art and Design is working with Wolverhampton Archives and Local Studies Service to explore the architectural contribution the Weller family made to the area.
'Perceived as cowards'
The Order of the White Feather was founded at the start of World War I. Women would hand white feathers to young men who they deemed to be cowards for avoiding military service.
Ms McIntosh said: "They were meant to shame the recipient and would not be expected to be kept with pride as they were sent to people who were perceived as cowards.
"Arguably, William, who was in his early 40s at the time, shouldn't have been sent this white feather in the first place, because he had been excused from service on medical grounds and because he was carrying out essential war work by building homes for steel industry workers, but it seems he decided to keep it along with the letter.
"And we're very grateful that he did as it's a fascinating artefact and an incredibly rare find - even the Imperial War Museum doesn't appear to have one.
"It gives a stark and chilling alternative view of the war."
The letter, which was signed 'A. Chicken Heart, clerk to the council', includes the line: 'Your gallant + protracted defence against the brutal attacks of the local tribunal has been brought to the notice of the Supreme Council of the Most Noble Order of The Trench Dodgers.'
The Weller papers were left to the Wolverhampton Buildings Preservation Trust last year.