Alleged kidnap in Oldbury prompts gathering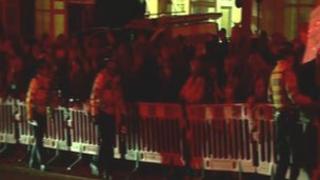 Hundreds of people have held a protest in a West Midlands town over concerns about child safety after the alleged abduction of a 10-year-old boy.
They congregated near some housing association-owned flats in Oldbury which house single parents, ex-offenders and recovering addicts.
The boy was found unhurt after failing to return home from some shops.
Police said the flats were now empty as the tenants had moved. A 49-year-old man was charged with kidnap on Tuesday.
'Fear of reprisals'
Michael Jackson, from Bristnall Hall Road in the town, faces several other charges including false imprisonment, threats to kill and sexual assault.
He is also accused of a separate charge of child abduction relating to another incident on 14 September in which an 11-year-old child, also from Oldbury, was allegedly abducted.
Mr Jackson was remanded in custody when he appeared at Warley Magistrates' Court on Wednesday.
In a statement on Thursday, Insp Ian Massey from West Midlands Police said the force was "aware of public concerns".
He said as a result, residents had decided to leave the building.
"Some of the residents have lived there for many years, but as a result of the concerns within the community over the course of the past few days all of those residents have now opted to leave and have been rehoused, as a result of fear of reprisals at the premises.
"Therefore the flats are now vacant and have been secured pending consultation between the housing association and the community regarding their future."
The protest followed a meeting between police and local councillors on Thursday.