New Cross and Russell Hall hospitals high death rates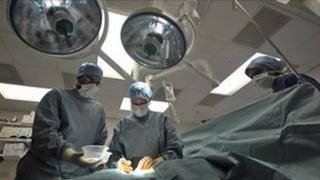 Trusts which run hospitals in Wolverhampton and Dudley have been named on a list of those with the highest death rates.
The findings were published by the research company Dr Foster.
The Royal Wolverhampton Hospitals NHS Trust and the Dudley Group of Hospitals NHS Foundation Trust were among 19 criticised for their death rates.
Both trusts said they had changed some practices as a result of their own investigations into deaths.
Wolverhampton's trust Chief Executive David Loughton said the figures were a result of wider issues in the city.
Mr Loughton said: "The life expectancy if you travel two and a half miles across the city changes by seven years. So if you compare us with the south east of England, yes we don't do very well."
The Dudley Group NHS Foundation Trust, which operates Russell Hall Hospital, confirmed that it investigated every death at the hospital and was "currently undertaking a programme of improvements to the provision of clinical care outside normal working hours".
In a statement, it said: "As a result of this programme we have already increased the number of doctors and specialists providing clinical care at nights and at weekends.
"We are pleased that the Dr Foster 2011 Hospital Guide shows us to be performing as well as or better than other hospitals in a wide range of other performance indicators."
'Weekend staffing'
The Royal Wolverhampton Hospitals NHS Trust, which runs New Cross Hospital, was particularly criticised for the numbers of patients who died during weekends.
The Dr Foster report said the hospital's "mortality ratio is within the expected range Monday to Friday, but higher than expected for patients admitted at weekends".
While the report draws a comparison nationally with weekend staffing levels and the mortality rate, the trust was not named among the 10 worst in terms of weekend staffing.
Mr Loughton said the deaths at New Cross Hospital had remained consistent over the last decade, with about 1,600 deaths a year.
He added: "We have reviewed every one of those 1,600 deaths and not in a single case did we find a contributing factor that we could have done anything about.
"That's not to say the standard of care wasn't always up to scratch.
"We have changed a number of practices as a result of those investigations."
Wolverhampton was also criticised for the number of patients who died after surgery which was 46% above the national average.
But a Dr Foster spokesman said the precise figure could not be depended on because of the relatively small number of operations conducted at the hospital.
Nationally the research group found that those hospitals conducting a small number of surgical procedures were more likely to see deaths.
Dr Foster suggested that trusts like Wolverhampton "should think about either increasing their volumes or ceasing to carry out these operations".