'Dog attack' leaves 18 sheep dead on Solihull farm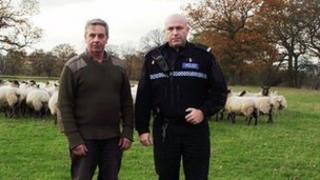 Police wildlife officers have issued a reminder for people to keep their pets away from livestock after 18 sheep were killed in a suspected dog attack.
A further six sheep were found injured on a farm in Solihull, in the West Midlands, last week.
PC Andy Timmins said dog owners are committing a crime if they allow their animal to "worry" livestock.
He added farm owners have the right to shoot any dog they believe is endangering their sheep.
PC Timmins, a wildlife crime officer, co-ordinates Solihull Police's Farmwatch scheme which shares information and rural crime prevention tips among its members.
'Distress and suffering'
He said: "Walkers need to be aware of the risk unleashed dogs pose to sheep and lambs as they can chase, attack, maim or even kill.
"Sadly, such incidents are on the increase. It's a situation which cannot be allowed to continue.
"The sheep found dead last week have a combined value of around £3,000 - this is a significant financial loss for the farmer not to mention the distress and suffering caused to the animals."
He added he wanted to encourage all dog walkers to exercise their dog considerately and keep them on a lead when near sheep.
The fatal sheep attacks occurred sometime between 19 and 21 November in a field off Lugtrout Lane, in Damson Wood.
Police are asking anyone who witnessed the attack, or has information about it, to get in touch.