Birmingham City Council ex-employees win equal pay case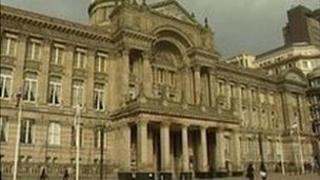 A group of female workers in the West Midlands have won a Court of Appeal decision on equal pay claims.
The case involves 174 former employees of Birmingham City Council.
The ruling opens the way for potential claimants in both the private and public sector who thought their claims were outside tribunal time limits to pursue actions for compensation.
The council said it was "disappointed" and was considering its next step which could include an appeal.
Cases must normally be heard within six months at Employment Tribunal, but six years at the High Court.
Birmingham City Council had appealed against a deputy High Court judge's ruling in December last year that the High Court had jurisdiction to determine the claims.
Appeal judges unanimously ruled Birmingham City Council had failed to establish that the deputy judge's ruling on the 1970 Equal Pay Act was wrong or in any way flawed.
'Not right'
The women, who worked as cooks, cleaners, caterers and care staff, claimed they were excluded from getting the bonuses handed out to employees in traditionally male-dominated jobs.
Law firm Leigh Day & Co, which represented the 174 women, said that in 2007 and 2008 tens of thousands of pounds were paid to other female ex-employees of the council to compensate them.
Linda Manders, 59, worked for the council for 10 years as a lunchtime supervisor at a school.
She said: "Not being able to claim the pay I was entitled to is simply not right and this judgment helps me and others like me who may now be able to recover what they should have been paid over many years."
A Birmingham City Council spokesperson said: "We are disappointed by the judgment and are currently considering our next step, which could include an appeal."