Kraft Cadbury job cuts talks leave Unite union cynical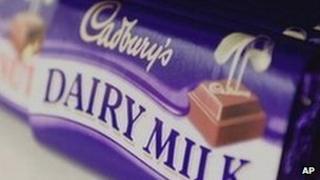 Union leaders at Cadbury in Birmingham have said they got "no answers" at a meeting to discuss Kraft Foods' plans to cut 200 jobs at three of its sites.
Managers spent an hour at a meeting with union representatives earlier.
The firm has said jobs would go at Bournville in Birmingham, Chirk in Wrexham and Marlbrook in Herefordshire.
John Flavin from Unite said: "We tried to see if the sums added up but clearly we didn't get the answers we were anticipating."
News about the job losses came as Kraft announced a £50m investment in UK chocolate and biscuit manufacturing.
'Implications'
Mr Flavin said: "Until we get some clear cut answers from the company around the numbers of anticipated job cuts I think people are going to be a bit cynical."
The union will be discussing the proposed job losses again a meeting of Birmingham union reps next Wednesday and at a national meeting the following day.
Kraft said the losses would be made through redeployment and voluntary redundancies over two years from next March.
In terms of investment, the firm said a new biscuit line would be made at the Sheffield plant, creating 20 new jobs.
'Increase productivity'
Kraft said additional money would be spent on a series of projects across three other manufacturing sites - £13.5m at Bournville, £3.4m at Chirk and £2.6m at Marlbrook.
The company said the remaining funds would be spent on a range of projects to upgrade infrastructure, speed up production, reduce waste and improve energy efficiency.
Neil Chapman, Kraft's manufacturing director, UK chocolate, said: "The ambition is for Bournville, Chirk and Marlbrook to remain at the centre of British food manufacturing and of the Kraft Foods network.
"We continue to invest in our people and facilities, so we can increase productivity and transform our business."