Trust to run Wolverhampton City Council leisure centres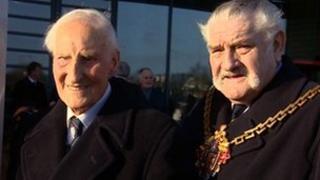 Leisure centres in Wolverhampton will be run by a charitable trust under plans backed by the city council's cabinet.
The new Bert Williams Leisure Centre, which opened on Saturday, Aldersley Leisure Village and Central Baths would be removed from direct council control.
Wolverhampton City Council said the plans would save about £400,000 a year and would not involve job losses.
The plans will now go before a meeting of the full council.
If approved, the Wolverhampton Leisure Trust could be running the centres by April.
About 100 council staff currently work at the three leisure centres.
As a not-for-profit organisation, councillor Elias Mattu said the trust would be able to recoup costs usually incurred through VAT and would also be exempt from business rates.
He added that establishing the trust was preferable to "having to find those savings from within the service's existing budget".
The council added that an advisory group would be set up to monitor the performance of the trust.
Wolverhampton Swimming and Fitness Centre, operated by DC Leisure on behalf of the council, will not be affected by the plans.