Birmingham chef Glynn Purnell warns of food price rise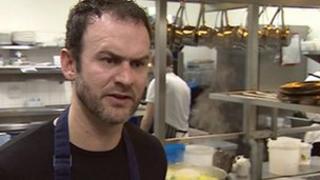 A Birmingham chef has said restaurant and cafe prices could rise by as much as 40% in the city if its wholesale market is forced to close.
Birmingham City Council has announced plans to relocate the market "to protect jobs".
But campaigners have warned that some traders would leave if it moved out of the city centre.
Michelin star chef Glynn Purnell said the market had played a key role in the city's reputation for food.
He said: "For me it's going to have a massive threat of ruining our food reputation. It's taken us years to get to this standard of restaurants and bars.
"Birmingham has always been mocked for being a culinary desert... where as now I'm finding we're now more of a national destination."
The chef, who has appeared on TV shows including the Great British Menu and Saturday Kitchen, set up Purnells in 2007, which was awarded a Michelin star two years later.
In 2005, while Mr Purnell worked as head chef at Jessica's, the restaurant became the first in Birmingham to win a coveted Michelin star.
Mr Purnell said small restaurants and cafes, which depended on the market, could go out of business if it closed.
He added that if wholesale prices increased, small businesses would be forced to pass those on to customers.
Birmingham City Council said the market would only be protected in the long-term by operating from a more modern site.
As many as 1,100 people are directly employed at the market, which is the largest integrated wholesale market in Europe.
A study commissioned for the Wholesale Market Association found it supported nearly 15,000 jobs and 5,000 small businesses within the region.