Scientists create new liquid medicines for children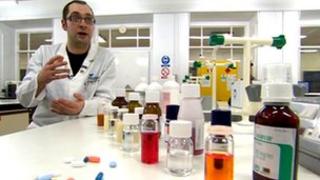 Scientists in Birmingham have been carrying out research to create more child-friendly medicines.
Researchers at Birmingham Children's Hospital and Aston University said that if drugs were more palatable, it would encourage children to take medication.
Much of the work is focused on finding liquid medicines to replace tablets, because children often find it difficult to swallow pills.
They also aim to improve the taste and smell of medicines.
Dr David Terry, a clinical pharmacist at Birmingham Children's Hospital, said: "You've got to be able to get them [children] to take the medicine one way or another, otherwise all of our investigations and clinical practice is worthless.
"It's certainly a problem, although we can't put any figures on it... but it's a regular event here at the hospital when we're administering medicines to children... it's difficult to get them to take the medicines regularly.
'Mask the taste'
"It's pretty complex stuff from a chemistry and pharmacy angle.
"It's not just about flavour, it's about making sure the medicine itself is stable and still works; that it's got a reasonable expiry and can be kept for a reasonable amount of time.
"It's not a question of sweetening it; sweeter medicines are potentially much more comfortable to take, but we don't want to add lots of sugar into medicines - that's not in any child's best interests."
Dr Daniel Kirby, from Aston University, added: "One of the ways forward would be to simply mask the taste of the drug and therefore make your formulation taste quite neutral, without the addition of sweeteners, or flavourings, or colourings, which could potentially add to that desirability of the medicine."