Birmingham's Irish immigrants 'struggle for work'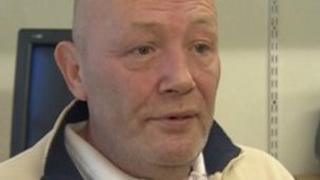 Birmingham is experiencing an increase in the number of immigrants from the Republic of Ireland, with many failing to secure permanent employment, a charity in the city says.
Irish in Birmingham says it is having to deal with more young men who are arriving from Ireland simply on the "off-chance of work".
According to the charity, about 100,000 people currently make up the Irish community in the city, which would seem to be a major pull factor for those looking to leave their home country, whose economy has gone from boom to bust in a very short period.
Estimates by the Office for National Statistics suggest a total of 38,000 Irish nationals were in the West Midlands for the year ending March 2011, with that figure remaining fairly constant over the three preceding years.
But it is thought likely numbers will have increased in recent months because emigration from Ireland has gone from just over 27,000 in 2010 to more than 40,000 in 2011, according to the Central Statistics Office Ireland.
'Vulnerable people'
Hugh Tibbets, chief executive of Irish in Birmingham, said about a third of the people leaving the Republic were arriving in Britain.
"Within Birmingham we're seeing some of those people coming here," he said.
"It's a mixed picture of some people making a very planned approach to that and coming to opportunities.
"We as a charity are often seeing the more vulnerable end of people, who are opting to come on the off-chance of work."
Mr Tibbets said much of the charity's work with those who had contacted it for help was spent finding short-term accommodation and jobs.
One such person is 51-year-old Gerald O'Dwyer, who is back in the city despite a brief return to Ireland.
He initially came over in the last big influx in the 1980s but is finding things more difficult second time around and at present is without a job or home.
"I thought there were better opportunities here than there were in Ireland but there isn't an awful lot of opportunity [in Birmingham] at the moment either," he said.
"I basically scraped the fare together. I had £39 in my pocket.
"I try and actively seek work everyday and I would consider anything."
Professor Cillian Ryan from the Department of Economics at the University of Birmingham said those with a lack of certified skills would "have difficulty finding jobs" in Birmingham.
"They're coming here because they've got connections but if you don't have skills it's much more difficult.
"The people who have skills are going to places like Australia and the young graduates are going to London.
"Push pressure for people to leave [Ireland] is huge, the problem is where they're going to go.
"If... we don't have jobs here then all they're going to do is wind up on the dole. They'd probably be better off on the dole back in Ireland."