Stoke-on-Trent bus station work starts new phase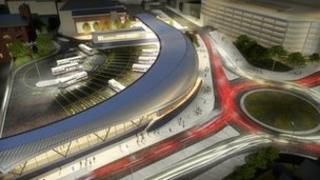 Work is starting on the next stage of a new bus station in Stoke-on-Trent city centre.
This phase will see work start on the foundations for the site, off John Street, and is expected to take about eight to 10 weeks to complete.
The station, which has been described by the city council as a "landmark", is due to open in autumn.
Councillor Ruth Rosenau, cabinet member for regeneration, said it would create a "stunning new gateway" for the city.
She said: "Over the next few years, Stoke-on-Trent city centre will start to look very different as major projects such as the regional new shopping centre, bus station and improvements to the public realm areas are developed."