London 2012: Hannah Powell's Olympic Dream year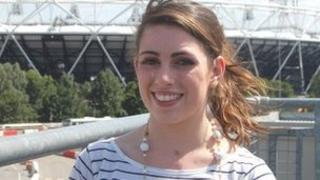 A weightlifter hoping to compete at the London 2012 Olympics says she is feeling excited now the games are months away.
Hannah Powell, 19, from Rubery, West Midlands, is living in Leeds as she trains for the Olympic qualifiers.
The qualifying process for the London 2012 Olympics goes on until June when the team is announced.
Powell, a British champion and record holder in her 48kg category, is spending hours training in the gym for the events ahead.
After a break to visit her family at Christmas Powell is now establishing herself in Leeds.
Talking about her typical day, she said: "I'm in the gym by 09:45, train for a couple of hours - usually until noon - then I go home for lunch and then back in the gym at 15:45 until 18:00."
It was the the 2008 Commonwealth Young Games in Pune, India, that gave her the first taste of a major multi-sport event and "kick-started" the Olympic dream.
Feeling the pressure
She said: "I have a couple of competitions coming up - one in Bristol on 11 February and then training camp in Tenerife from 19 February.
"Bristol is the first competition of this year, so it's also a chance to do one of the qualifying totals at B standard... And it's the A class is where the medals are won. I'm about 30kg off A standard.
"It's quite exciting as we've got a clock in our gym that is a countdown to the Olympics and it reminds you how close it is now.
"When I moved up here [to Leeds] I didn't realise how much hard work it would be, so had to adapt to the training and stuff, but this year we know what we're doing and have certain competitions where we can qualify and other ones to get used to competing.
"Everything's all quiet at the moment, but we'll feel the pressure when the competitions start."