Stafford MP urges noise reduction measures for M6 motorway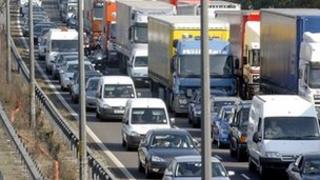 The government needs to do more to reduce noise pollution for people living near the M6 in Staffordshire, according to a local MP.
Jeremy Lefroy, Conservative MP for Stafford, asked Roads Minister Mike Penning to consider resurfacing work between junctions 13 and 14.
So-called "whisper tarmac", which reduces the amount of noise created by vehicle tyres, was suggested.
He also inquired about putting up sound barriers to deflect noise from homes.
In the parliamentary debate, Mr Penning replied that the government took road noise seriously and it was investing heavily in motorway infrastructure.
'Putting down marker'
"I asked the minister to look at the possibility when we have work being done on the M6 on that particular area... that any way possible for reducing noise impact be looked at," said Mr Lefroy.
"We're not saying this can be done overnight, but where there are opportunities, where work is being done on the motorway, it makes sense to look at all the modern techniques for reducing noise.
"With the planning for changes to motorways, you have to look a long way ahead and that's why I putting down a marker now.
"Clearly to shut down a motorway... is a serious event. It does affect the local economy and local people, so you might as well use that opportunity to do as much work as you possibly can."